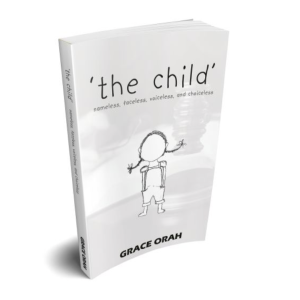 Sunday Mar 27, 2022
The Child - The Powerful V The Powerless - A Conversation with Grace Orah about her book.
'There's Injustice, Corruption and it's Archaic.' - Grace Orah describes the current Family Law system as the opportunity to continue the abuse she was subjected to in her relationship. A process that places children in the middle of parents in conflict and on a battleground where no one wins.  
Australian Family Law is in a national crisis, with jurisdictions failing to take responsibility and be held accountable for the safety, security and sanity of parents and children. 
The Child is the play book for navigating the Family Court of Australia. Written from the experience of a de-identified author with the hope other parents who find themselves unable to afford the extraordinary costs of a lawyer, can educate and arm themselves with the tactics and games played inside and outside, the walls of a court room. 
https://lnkd.in/guxGvmR6 Available on Amazon for $7.99
The Child is not only one woman's story but the guide to the processes, rules and strategies she was subjected to by her child's father's lawyers.  Described as 'Repugnant and Neglectful' this mother became the enraged lioness you'd expect.  Forced to defend baseless lies that lacked evidence, Grace shares how she continues to recover from these false allegations and the impact of prolonged proceedings that do not hold the abuser accountable.
"A new Family System! (Note the word Court is removed!), that cradles our children, uses words that heal, supports victims, offers peace and guidance, brings justice and leaves no one financially destroyed!" #oneforall
If you are experiencing domestic abuse, violence, post separation or legal systems abuse you can reach out for support to 1800 RESPECT.  
Please note our guest on this podcast has been de-identified for her safety and that of her child.  Currently, Section 121 of the Family Law Act prohibits the publication of any specifics that are liable to identify a party to a family law proceeding. However, the provision has attracted criticism from those who say it leads to lack of transparency and accountability in the family court system.
This means that the general community does not know a lot about the processes and procedures involved in the family law system. People are also often unaware of the factors that courts take into account and the decisions that judges make.
Some journalists feel that the provision does more harm than good. Author and journalist Jess Hill in her 2019 book about family violence See What You Made Me Do, argues that Section 121 'allows bad behaviour within the system to go unchecked.' 
This is the story of the Powerful Vs Powerless.